Timothy Bunny was no different to any other child – mischievous, the centre of the family, unrestrained candy obsession, you name it. Although the late Bunny ancestry, ironically, was not an animal family, animals were heavily influencing in his life – with many of Timothy's close friends, schoolmates, and father's contacts being animals.
Timothy was the only child of Wayne Juergen Bunny, an extremely succesful Austrian-born banker, CEO of 'Bunny Banks' and governing board member of the International Banker's Society. His mother, Helena Elizabeth Bunny, was an American socialite and business woman, chief financial officer of Bunny Tower, and dragon on 'Dragon's Den'. Timothy had an exceptionally wealthy childhood.
Being quite a rampant child, chaotically running around all day, his family gave him the nickname "Zipper", unbeknownst to what that would later entail, and how that would besmirch the family's once great legacy.
After his eighth birthday, it all changed.
We reached out to Zipper's family, in an attempt to get more information, not yet covered by press. To our dismay, the Bunny family had died out years ago – their house destroyed, with no evidence of them ever having existed.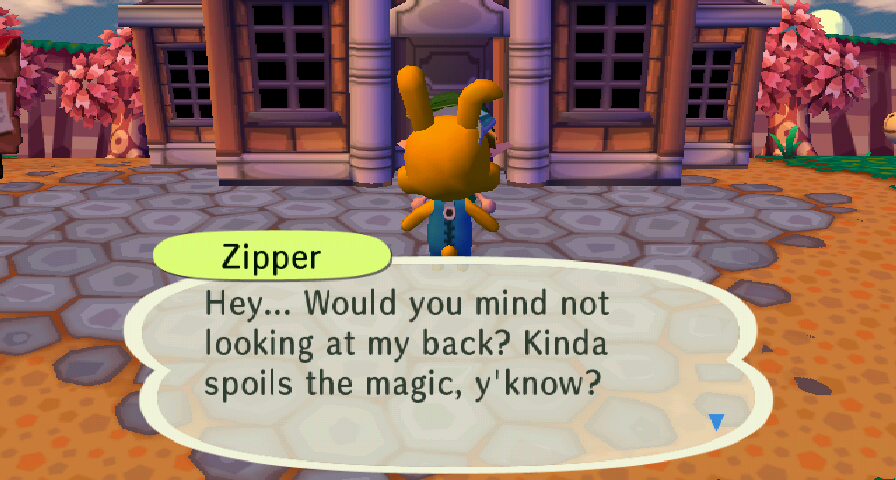 "Zipper T. Bunny's identity can not be pinpointed to a single entity."
We've consulted with everyone linked to this concerning tale, but it all came up blank. We know barely anything – his history, and that of his family is completely untraceable. He turns up when he wants to, leaves when he wants to, and pollutes your island's sky and sea with his 'eggs'. He doesn't sleep, eat or drink, and if you approach the zip on his back, it'll 'ruin the magic'.
It seems that Zipper leaves an objective sense of fear, wherever he goes.
Every other villager is terrified of him – often refusing to even acknowledge his presence out of fear. Is he really who he says he is? Who is behind the eerie passion-filled bunny facade? Who are the Bunny family? Animal Crossing, neé Tom Nook, paints this idyllic and picturesque lifestyle with food, work and a controlled authority, but this portrayal is riddled with mystery, with Zipper T. Bunny being the most controversial. We may never discover what lies behind the curtain, but we must do our best to try.
Stay tuned here at Press Reload, for more gripping mysteries, uncovered by other press outlets – and remember: do NOT touch the zip.